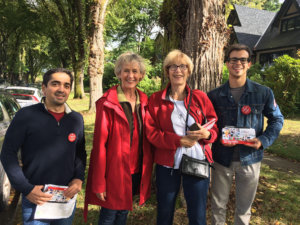 Yesterday, the Prime Minister called the 2019 Federal Election for October 21st. Voters will face a critical decision about the government you want.
Canadians face a multitude of challenges today, domestically and globally. We need sustained climate action to lower our greenhouse gas emissions and find new pathways towards a renewed and sustainable economy for everyone. We need progressive policies that invest in Canadians and local communities, alleviating poverty so more families have opportunities to succeed. We need to combat the rise of populism and intolerance, because diversity of experiences and knowledge leads to building better communities.
A Scheer government would reverse progress on these fronts and bring us back to the Harper years of climate inaction, austerity and divisive politics.
I'm proud of the work the Liberal team and I have accomplished in the past four years – but there is much more to do. Canadians have a critical choice to make. We need your help to ensure that Canada – our communities, our schools, and our families – continues to benefit from progressive policies that celebrate inclusion and hard work. On October 21, let us choose forward together.
Warm regards,